On Tuesday, February 1, a group of still-unidentified people staged an attack on the main government building in the capital of Guinea-Bissau. According to the country's president, Umaro Sissoco Embaló, the attackers wanted to kill him and his cabinet. Though the coup was unsuccessful, the 5-hour long gunfight left 11 dead and was a reminder that the country is a long way away from a stable government.
Since gaining its freedom from Portugal in 1974, Guinea-Bissau has dealt with 4 successful coups, 10 coup attempts, several assassinations, elections riddled with discrepancies, and even a civil war (timeline here). Instability has led to the country becoming one of the poorest countries in the world, a prime target for drug trafficking, and a place often avoided by businesses and international nonprofits or non-governmental organizations.
---
The capital city, Bissau, is where WAVS is building its new vocational school. Thankfully, all WAVS staff and personnel are safe after the attack. This is not the first time an event like this has occurred, nor will it likely be the last, unfortunately.
Many would look at the realities of Guinea-Bissau and see it as a lost cause. In fact, try to book a ticket to Guinea-Bissau and you'll be warned against travel because of the three C's: COVID, crime, and civil unrest. But despite the risks and the challenges, WAVS has stayed to help this country – and will continue to do so. Instead of focusing just on the challenges, we look at the opportunities in this nearly-forgotten corner of the world.
We know that Christ has called us to love our neighbors through words and deeds, no matter who they are or where they live. For that reason, we have intentionally chosen to work in some of the hardest places in the world. WAVS not only works to provide skills training to help young people work for a brighter future, but does so with a hope of raising up future leaders of the country that can invest in Guinea-Bissau.
Working in Guinea-Bissau is hard. That's why we're here.
Interested in supporting young men and women in Guinea-Bissau? Here are some ways you can get involved.
Join the One Student community.
Supply students with welding tools through the New Entrepreneurs Program.
Help construct the third WAVS school in the capital of Guinea-Bissau.
Pray for the country of Guinea-Bissau, WAVS staff, and students.
---
More about Guinea-Bissau
At first glance, the country of Guinea-Bissau doesn't seem like much more than just a [...]
Opportunity builds on itself. One opportunity leads to another. Its impact is exponential. In a [...]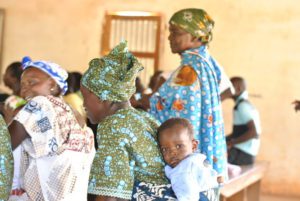 "Eat your dinner. There are starving children in Africa!" … so our parents told us [...]